The Better Way to Manage Colorado Real Estate Transactions
Digitally manage your residential or commercial real estate business like never before, for less.
Try our risk-free trial with no credit card required.
Quick and Easy to Learn
Get the hang of using eGent in 5 minutes
or less.
Simple to Switch Platforms
Import current and previous transaction documents from your existing software provider.
Compatible with All Other Agents
Easily complete transactions with other parties,
even if they aren't using eGent.
24-Hour Support
Reach our 24-hour support team
at any time.
Access to Commission-Approved Forms
We provide all commission-approved forms for your location. Click Here to see if eGent is available in your state.
Trusted Security
Execute and store transactions
with 100% security.
FEATURES
General Features
eGent delivers all of your favorite digital transaction features in one superior platform.
Transaction Database

Create, manage, store, edit, and share all of your current and past transaction documents.

Messaging Center

Attach signable eContracts, files/links, and send/receive secure messages.

eCalendar

Sort calendar by events, tasks, or custom filtered transactions to share calendars and custom deadline explanations with clients.

Task List

Create custom tasks particular to each listing and manage important to-dos throughout the process.

Electronic Signatures

Sign documents electronically, get notified when documents are signed, and toggle signature functionality on/off.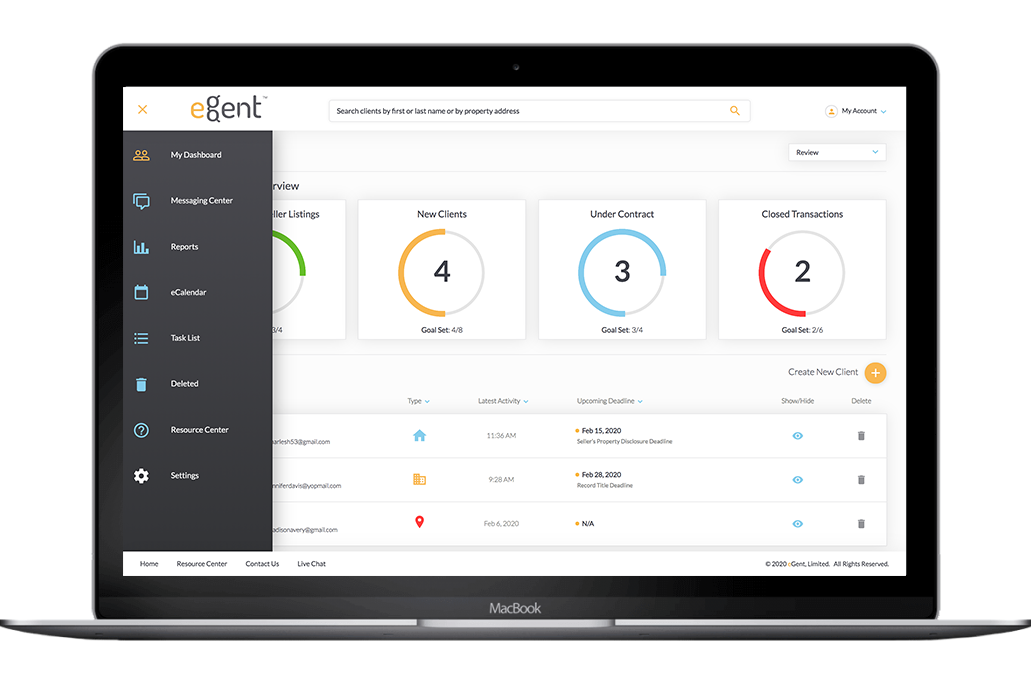 eGent Exclusive Features
We are innovators in the real estate world for one important reason: to make transactions simpler and more efficient for agents and their clients. Check out some of the exclusive features that eGent provides.
eGent
Simple View
eGent has worked closely with the Armbrust Real Estate Institute and other industry leading experts to simplify commission-approved forms by converting them into an easier to follow format. This revolutionary feature will allow you and your clients to move more quickly and confidently throughout the entire transaction lifecycle.
Receive a line-by-line explanation throughout each document in layman's terms
Quickly populate document information using efficient form fields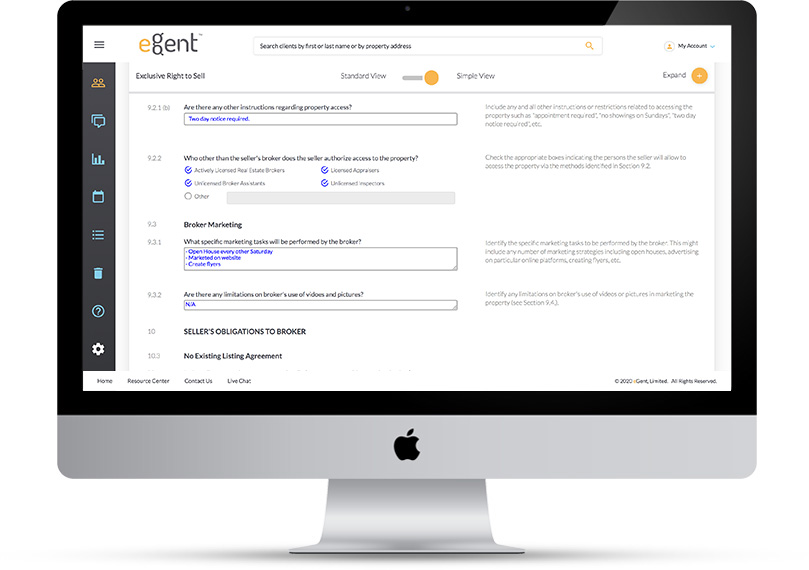 View a complete snapshot of transaction information for within each form
Seamlessly toggle between Standard View and Simple View
+ More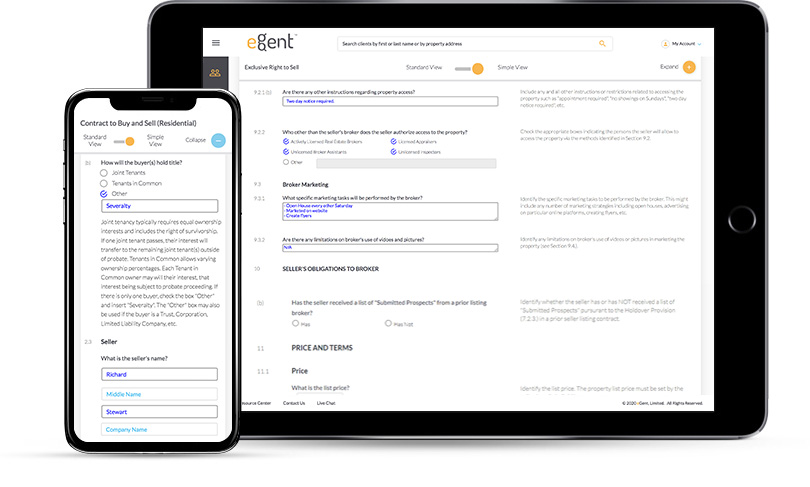 eGent Client Profile
This tool allows your clients to access the following features
using their own profile:
Track deadlines set by agents
Receive notifications when updates are made or action is required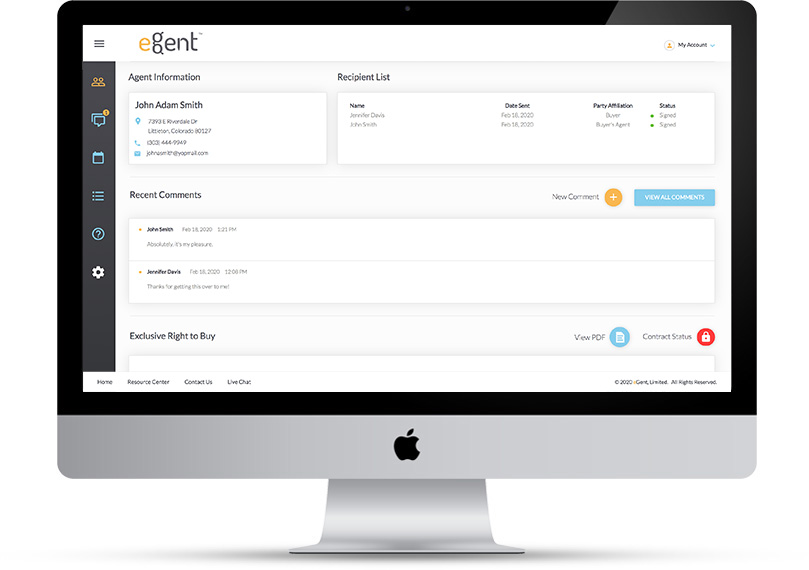 Sign and review documents with eGent Simple View
View information from all current and previous transactions with unlimited document storage
+ More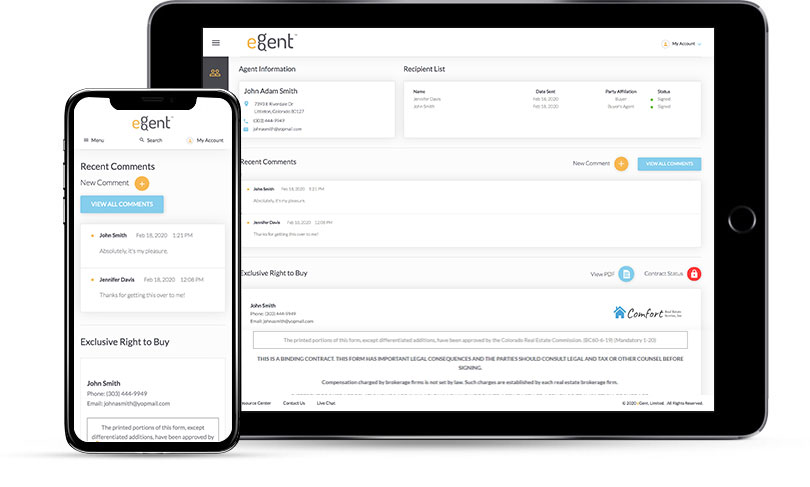 eGent Transaction Review
eGent's Transaction Review page allows Agents and TCs to upload documents for Managing Brokers to review in one centralized place. This tool gives eGent users the ability to:
Access Transaction Review templates created by the brokerage firm
Upload documents or request for exemption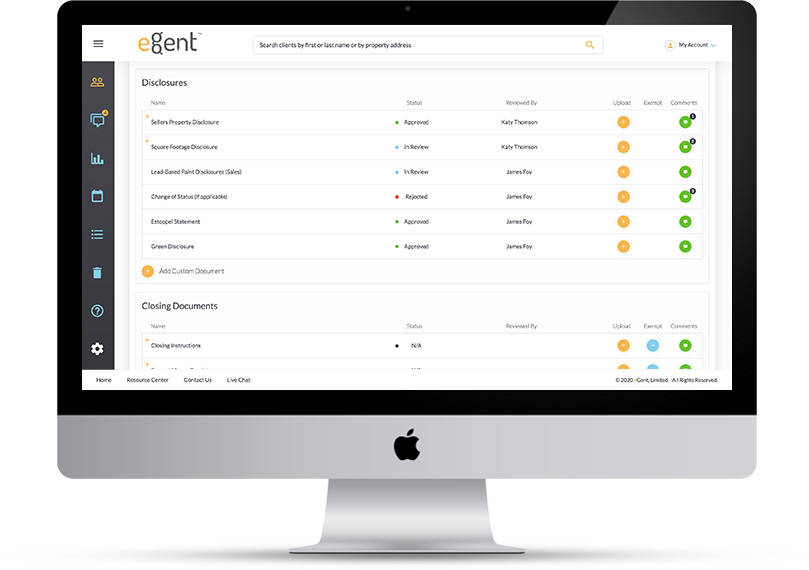 Get notified when documents have been uploaded for review
Add custom transaction-specific documents
+ More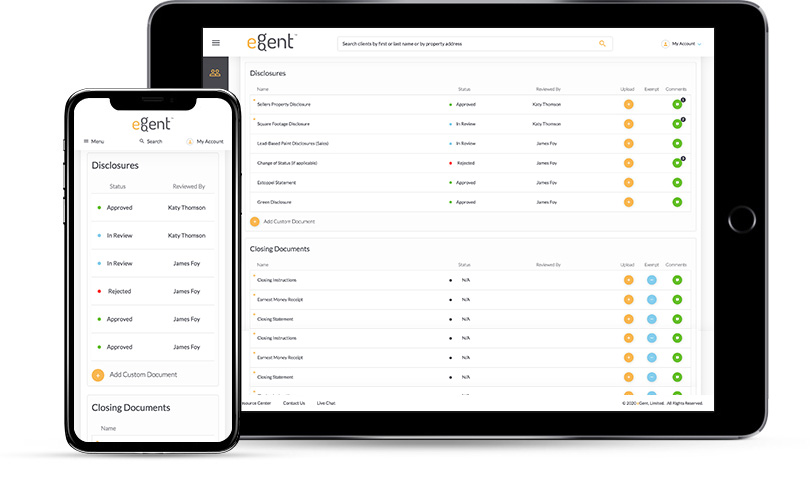 eGent Templates
eGent Templates can be used to standardize your workflow and mitigate repetition.
Quickly fill dates and deadlines by choosing from a custom library of deadline templates
Be the source of knowledge and prepare clients for upcoming deadlines with deadline explanation templates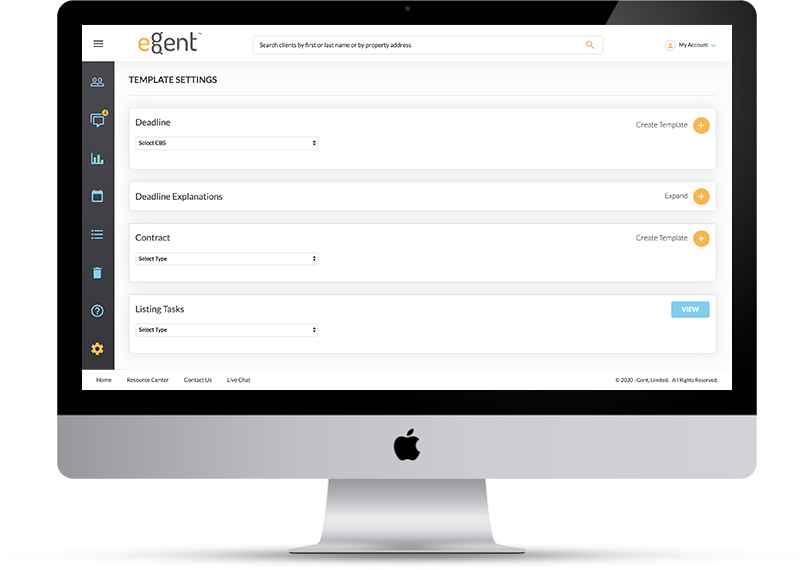 Use contract templates to reduce repetitive data entry and expedite the contract creation process
Streamline transactions by utilizing auto-generated listing tasks
+ More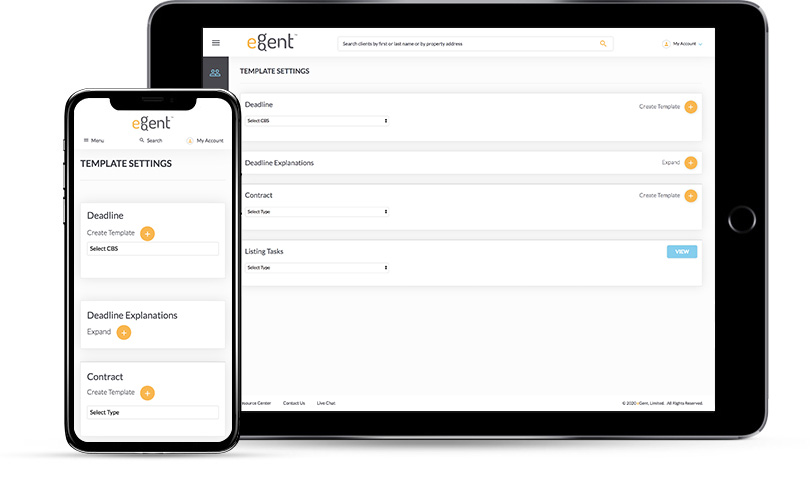 eGent Specialized Reports
eGent Reports allow you to analyze your personal and team performance. You may filter by a range of categories to fit your search criteria. eGent continuously provides the newest technology in report analytics for your real estate business.
Track monthly goals
View individual and team performance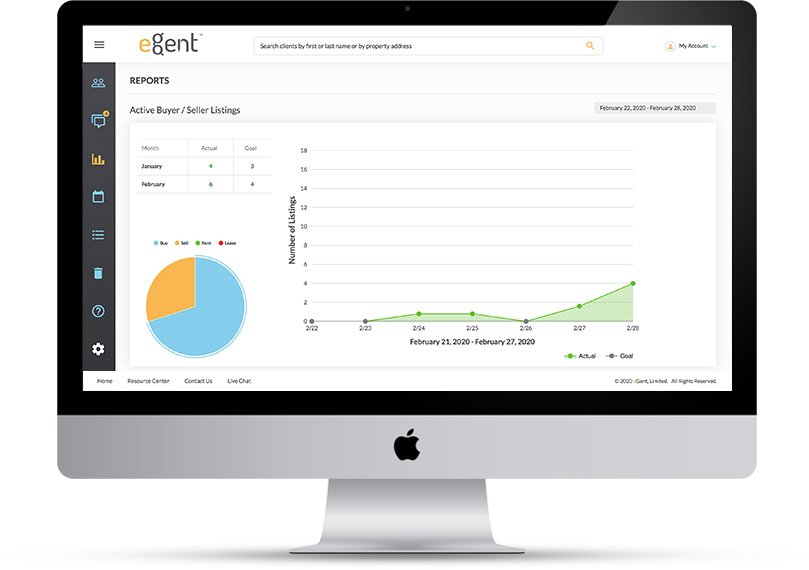 Monitor transaction statuses
Keep track of buyer/seller/tenant/landlord transactions
+ More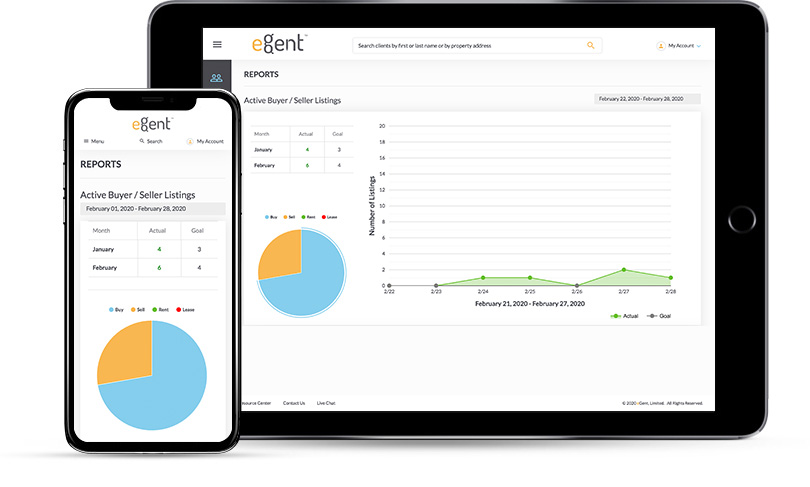 eGent
Frascona Package
eGent has worked with the law office of Frascona, Joiner, Goodman & Greenstein to provide Colorado real estate professionals with access to their Clauses and Addenda forms.
Create a variety of custom Colorado Disclosures, Notices, and Addena forms
Frascona Clauses and Addenda forms are continuously updated in eGent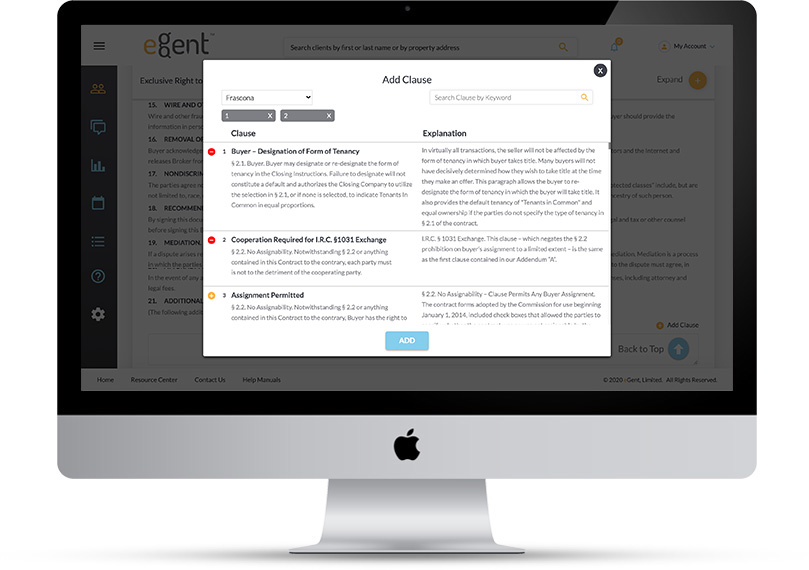 Search through a library of attorney-created clauses
Receive easy-to-understand explanations for each Clause
+ More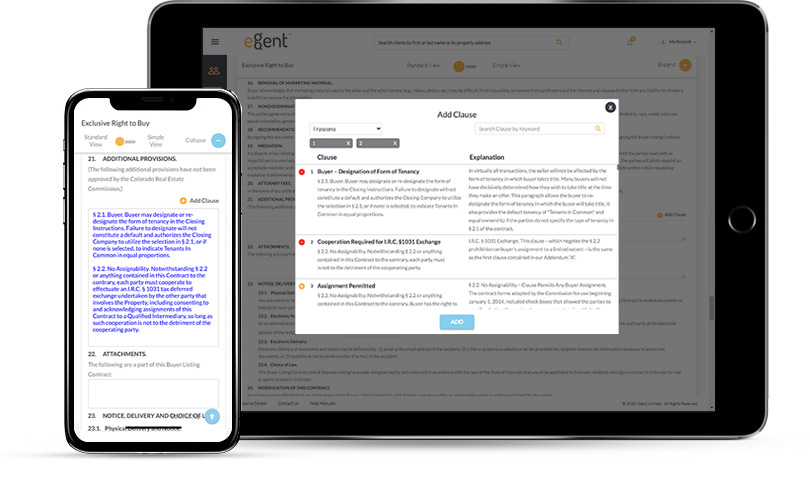 Compare Top Providers
eGent is designed to let you do more in less time, at a lower price than the competition.
See why eGent is the top real estate transaction management service.
Try it free for 30 days with no credit card required.
User Feedback
Testimonials
Frequently Asked Questions
Don't see your question here? Head over to our FAQ section.